MALOSSI RED/2000RPM +30% 250CC/300CC TORQUE SPRING (CN250 / VOG 250/260/300)

TORQUE SPRING USED FOR 250CC/300CC BUGGIES
Malossi Maxi Scooter Performance Torque Spring Malossi red 30% for Aprilia, Benelli, Linhai 260, Vog 260, Diamo, MBK, Yamaha Maxi Scooters
Reinforced red clutch contra spring from Malossi for the Aprilia Leonardo 250cc, Benelli Velvet, Italjet Jupiter, Malaguti Madison, MBK Skyliner and Yamaha Majesty Maxi scooters, provides better acceleration. Works on the USA Linhai 260 series: BN169MM, LH170MM, LH173MN, YP250 engines in Linhai VOG 260cc, Diamo Turista 300cc, Aeolus 260cc, Scooters.
MALOSSI is the long-standing industry standard when it comes to after-market racing scooter products. We carry a wide range of performance scooter products from 49cc to 700cc in the Malossi products range. When selecting Malossi try not to mix and match brands know that Malossi components are designed to work with other Malossi components and it will make any upgrades easier to tune since they are designed to work with each other. Malossi is one of our top tier brands with our highest recommendation. They have an excellent price range, model selection, and the highest quality. All Malossi components are made 100% in Italy. All final manufacturing, assembly, and research and development is done at their facilities in Bologna.
Silicon-steel springs with high carbon content, heat-treated, dynamically balanced, kiln painted, designed and calculated for each specific application.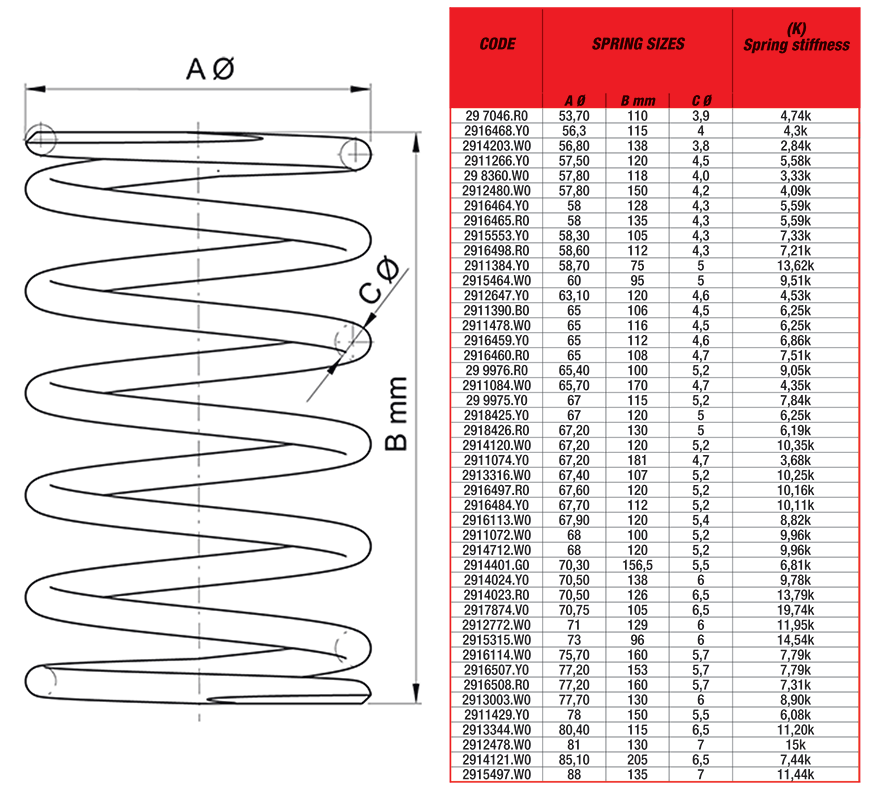 RED VARIATOR ADJUSTER SPRING ext.Ø 65,4x100mm thread Ø 5,2mm 9k
SCOOTER FITMENT