JD'S "91X SERIES" AIR/FUEL/EXHAUST/SPARK BUNDLE FOR YERF DOG SPIDERBOX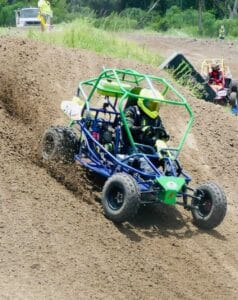 JD'S CUSTOM BUGGIES STARTED THE "MBX" BUGGY RACING SERIES HERE IN FLORIDA. SINCE 2017 WE HAVE USED MBX TO PUSH BOUNDARIES AND TEST PRODUCTS AND PRODUCT COMBINATIONS.
JD'S RACE BUGGY THE "91X" HAS BEEN THE TEST MULE SINCE DAY ONE OF NOT ONLY MBX BUT SINCE THE 1ST DAY IN 2009 WHEN THIS YERF DOG WAS PURCHASED. NOW WE WOULD LIKE TO OFFER THESE COMBINATIONS TO OUR CUSTOMERS BECAUSE WE KNOW THEY MAKE A DIFFERENCE. ALL OF THE "91X SERIES" PACKAGES ARE EXACTLY WHAT IS BEING USED ON THE 91X MACHINE!
THIS AIR / FUEL / EXHAUST / SPARK  BUNDLE IS AN AWESOME COMBINATION TO RAMP UP THE PERFORMANCE OF THE TUNING PORTION OF YOUR BUGGY!
THIS KIT INCLUDES
1 – COMPLETE JD'S YERF DOG SLIDE CARB KIT THAT WILL INCLUDE 2 PILOT JETS (15, 17.5) & MAIN JETS FROM 230 TO 330 TO COVER EVERY MOTOR FROM STOCK TO BUILT
1 – RATTLER CLASSIC EXHAUST PIPE
1 – BAN JING MICROCHIP CDI/COIL COMBO
1 – NGK CR7HIX IRIDIUM SPARK PLUG
1 – OUTERWEAR PREFILTER
1- UNI FILTER FOAM FILTER OIL
ROUGHLY $130 IN SAVINGS