JD'S "91X SERIES" PERFORMANCE CVT BUNDLE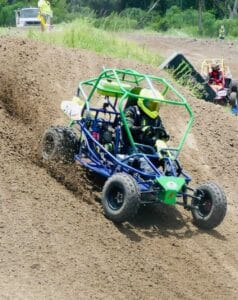 JD'S CUSTOM BUGGIES STARTED THE "MBX" BUGGY RACING SERIES HERE IN FLORIDA. SINCE 2017 WE HAVE USED MBX TO PUSH BOUNDARIES AND TEST PRODUCTS AND PRODUCT COMBINATIONS.
JD'S RACE BUGGY THE "91X" HAS BEEN THE TEST MULE SINCE DAY ONE OF NOT ONLY MBX BUT SINCE THE 1ST DAY IN 2009 WHEN THIS YERF DOG WAS PURCHASED. NOW WE WOULD LIKE TO OFFER THESE COMBINATIONS TO OUR CUSTOMERS BECAUSE WE KNOW THEY MAKE A DIFFERENCE. ALL OF THE "91X SERIES" PACKAGES ARE EXACTLY WHAT IS BEING USED ON THE 91X MACHINE!
THIS CVT SETUP IS EXACTLY WHAT WE ARE RUNNING ON THE 91X.
THIS KIT INCLUDES
1 – DR PULLEY 60* HiT CLUTCH
1 – SSP-G 1500 RPM TORQUE SPRING
1 – SSP-G ROLLER TORQUE SPRING BASE
1- BAN JING TITANIUM COATED CLUTCH DRUM
1 – TFC FORGED CLUTCH PULLEY
1 – DR PULLEY VARIATOR KIT
1 – BAN JING PURPLE FORGED DRIVE FACE
1 – SET OF DR PULLEY 12G SLIDE WEIGHTS
1 – GATES PREMIUM BELT
ROUGHLY $120 IN SAVINGS