Visu-Filter Universal 3/16″ In-Line Fuel Filter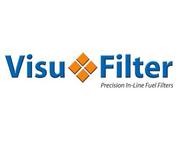 Premium 3/16″ Universal Fuel Filter. Visu-Filter In-Line Fuel Filters hold more filtered fuel than any other comparable filters. The clear PET housing is gas, diesel and alcohol resistant.
Hose Barb Size: 1/4 inch (6.25mm)

Fuel Line Recommendation: 3/16 inch

Flow Rate with 3.5 inch Fluid Head: 3.2 gallons per hour

Average Micron Rating: 60

Housing and Cap Material: Clear PET (E-85 Compatible)

Filter Media: Stainless Steel Mesh

ANSI/OPEI B71.10-2018 Certified

Made in U.S.A.
Avanti, Baja, Baotian, Baron, Bashan, Bladez, Boreem Jia, Boss, Bravo, CFMoto, Diamo, Dotera, Eton, Honda, Kazuma, Kymco, Lawn & Garden Equipment, Lifan, Mini Choppers, Most Makes/ Models, Panterra, Peugeot, PGO, Piaggio, Qingqi, Redcat, Roketa, Schwinn, Strada, Sunbird, SUNL, Super Pocket Bikes, Suzuki, SYM, Tank, Terminator, TGB, Various unlisted makes/models, Vento, Verucci, Wildfire, X-Treme, Yamaha, Yamati , YongKang